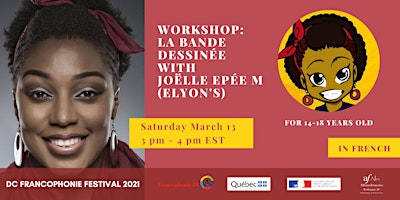 Workshop: la bande dessinée with Elyon's (14-18 YO)
Saturday 13th March 2021 — 3:15pm to 4:15pm
Alliance Française of Washington, DC in partnership with the Embassy of France and the Québec Government Office in Washington invites you to participate in an interactive workshop with Cameroonian comic book author and artist, Joëlle Epée Mandengue, aka Elyon's.
During this workshop, designed for 14-18 years old, participants will learn more about the art of "la bande dessinée" and will work on creating a scenario in the form of exquisite corpse.
This event is organized as part of the 2021 DC Francophonie Festival. It will be held in French. Prepare some pencils and a piece of paper if you would like to participate in the creative process.
The event is free and open to everyone. All registrants will receive a Zoom link a few days before the event.