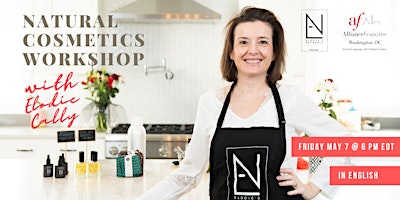 Natural Cosmetics Workshop with Elodie
Friday 7th May 2021 — 6:00pm to 7:00pm
Discover the science behind clean beauty with Elodie's Naturals! Alliance Française of Washington, DC invites you to participate in an interactive workshop with Elodie Cally, the founder of the Arlington-based skin care and beauty company. Enjoy a unique experience and create your own skincare products. Made by you and for you.
This event will be held on Zoom in English.
During this workshop you will be making a Lemon Scrub with Olive Powder. You will learn the "gel technique" in skincare chemistry and with only 5 ingredients, will make a scrub that can gently remove toxins and exfoliate. This recipe was voted the best scrub among Ellody's 100+ students in 2020.
If you wish to fully participate in this workshop and create your own product, pre-order the Provence Exfoliating Lemon Scrub DIY Kit here ($29.99 + $2.90 shipping fee). It will be shipped on the week of April 26. PLEASE ORDER BEFORE APRIL 26 TO HAVE YOUR ORDER SHIPPED IN TIME FOR THE EVENT. With this kit, you can make the scrub twice. Elodie also recommends buying some distilled water in advance (it is NOT included in the kit).
About Elodie Cally
Elodie Cally owns a Master's Degree from La Sorbonne University in Communications. After moving to the US for a corporate job, she took the journey to become an entrepreneur and share her passion for organic and sustainable skincare. She founded Elodie's Naturals in 2019 and has been teaching over 100+ adults and kids, all while offering natural skincare products on her website. She will soon be releasing a range of zero-waste and solid skincare like solid lotion bar or hair conditioner bar.
"Making skin care is like cooking," sais Elodie Cally. "If you have healthy and fresh, organic ingredients, you will get the most active nutrients for your skin. It's food for skin, with an ethical approach."
About Elodie's Naturals
Elodie's Naturals, an Arlington-based skin care and beauty company, is a leading provider of educational skincare chemistry classes and natural beauty products. Through workshops, classes, and online training, people looking for safe, all-natural cosmetics can learn how to make skincare products with plant-based and ethically sourced ingredients. Elodie's Naturals website is www.elodiesnaturals.com.
***
All attendees will receive a Zoom join link a couple of days before the event. Please make sure you add Eventbrite as Safe Sender to your email list. For any questions, please contact Natasha Zavadskaia at executive.assistant@francedc.org.