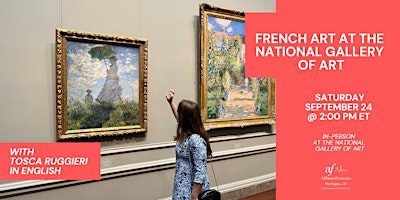 National Gallery of Art Private Visit with Tosca Ruggieri
Saturday 24th September 2022 — 2:00pm to 4:30pm
You may have visited the National Gallery of Art in Washington, D.C. but how about seeing it again in a new light?
For this guided tour in collaboration with the Alliance Française of Washington, D.C., Tosca Ruggieri curates a special visit of French Art on view at the NGA. During this tour, Tosca will lead you on an in-depth visit of the museum's masterpieces covering four centuries of French Art. You will explore paintings by Georges de la Tour, Chardin, Fragonard, Ingres, Monet, Degas, Matisse and others.
Meeting point: outside the National Gallery of Art's West Wing entrance located on Constitution Avenue, perpendicular to 6th St NW. See the picture of the entrance below.
Allez, on y va !?