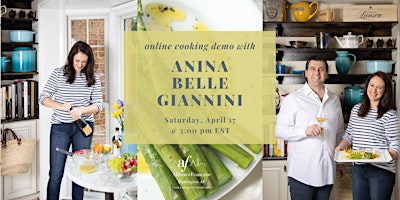 Journey to the French Riviera: Cooking Demo with Anina Belle Giannini
Saturday 17th April 2021 — 3:00pm to 4:30pm
The Alliance Française of Washington, DC invites you to spend your Saturday afternoon in the company of Anina Belle Giannini, author of Le Chef's Wife blog, American-Canadian hotelier, writer and passionate cook, enamored with the culture of southern France and French joie de vivre. The wife of a chef, Anina thinks of herself as a "translator" of French cooking, making it fun, easy and accessible. She will share some of her culinary tips and transport us to the French Riviera!
This event will be in English with a smattering of French cooking terms. Stay tuned for more details on the menu and for a list of ingredients to prepare for this event. We expect you to participate and cook along, but if you don't want to cook, you are equally welcome to just join in, watch and ask questions.
This event will be recorded and will be available for the public on our YouTube Channel afterwards.
A vos tabliers !
***
Anina Belle Giannini is a Canadian/American hotelier, writer and passionate home cook. She lives with her husband, Chef Sébastien Giannini, their 3 year old daughter, Valentina, and 5 month old son, Pierre, in McLean, Virginia.
Anina Belle met her husband during a University exchange to the French Riviera in her early twenties. They were married in Nice and lived 8 delicious years in the South of France before her career in luxury hospitality, as a sales and marketing leader for hotel brands such as Le Meridien, Ritz-Carlton and Four Seasons, moved the couple to Montreal, QC and then to Washington, DC.
Le Chef's Wife blog was born in 2018 out of lifelong passion for food, travel and cooking as well as a love of writing and photography. Cooking at home with her husband, an internationally renowned Chef, taught Anina Belle the tips and tricks that she enjoys sharing with the readers of her blog. "I see myself as a translator" says Anina Belle. "I translate the wealth of knowledge my husband has in French Cooking, learned over a career that started at age 14 working 16 hour days in Michelin starred restaurants, and boil it down it in a way that busy people in home kitchens (like me) can use and enjoy"
In 2019 Four Seasons Hotels published Anina Belle's first children's story book, "Fiona at the Four Seasons" and she is currently working on "Le Chef's Baby", a series of children's books that teach good food habits from a young age. Her work in recipe development and food writing has been published in Edible DC Magazine and District Fray Magazine.
Follow @lechefswife on Instagram or visit www.lechefswife.com for easy to make French Recipes and tips for living a French Riviera inspired life in the USA.
***
All attendees will receive a Zoom join link a couple of days before the event. Please make sure you add Eventbrite as Safe Sender to your email list. For any questions, please contact Natasha Zavadskaia at executive.assistant@francedc.org.