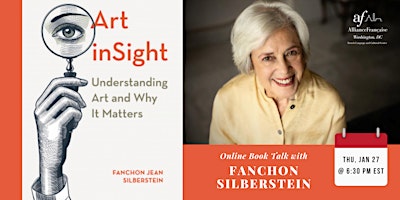 Art in Sight: Understanding Art with Fanchon Silberstein
Thursday 27th January 2022 — 6:30pm to 7:30pm
A first encounter with art is like meeting a stranger: it opens you to new ideas, people, places, and parts of yourself. However, sometimes people can feel intimidated by galleries and museums if they don't have a formal education in art. They may think that their opinion doesn't matter or that they don't have the "legitimacy" to even have an opinion. This is absolutely not true! We invite you to join us for an online conversation with Fanchon Silberstein who will talk about how to fully engage with art, how to understand it better, and what art can tell us about the way artists see the world.
In Art inSight: Understanding Art and Why It Matters, Fanchon Silberstein delves into the first known art and explores what it can reveal about how its makers saw the world and how contemporary artists can help us to see our own. The result is equal parts an ode to the joy of artful engagement, a how-to for anyone interested in understanding art and culture, and a journey around the world from prehistory to the present day. Readers confront strangeness through observation, description, and conversation, and are given the skills to understand cross-cultural divisions and perceive diverse ways of interpreting the world.
About the speaker
Fanchon Silberstein is an educator and writer who designed an innovative workshop, "Art and Intercultural Communication" for international audiences. She was Director of the US Department of State's Overseas Briefing Center, designing and delivering workshops for employees and families to prepare them for service abroad.
She served on the board of the National MultiCultural Institute, and was a docent for the Smithsonian Institution's Hirshhorn Museum, chairing the program during her tenure and assisting museum educators in training new docents. She holds a B.A. in English and Art History from the University of Michigan and a Master's in Special Education from George Washington University. For many years, she lived and worked in Southeast and South Asia and in Brazil.