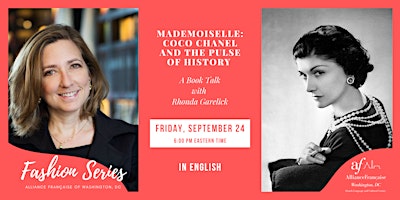 Adults
Fashion
French Culture
Coco Chanel and the Pulse of History, a Book Talk with Rhonda Garelick
Friday 24th September 2021 — 6:00pm to 7:00pm
Coco Chanel transformed forever the way women dressed. Her influence remains so pervasive that to this day we can see her afterimage a dozen times while just walking down a single street: in all the little black dresses, flat shoes, costume jewelry, cardigan sweaters, and tortoiseshell eyeglasses on women of every age and background. A bottle of Chanel No. 5 perfume is sold every three seconds. Arguably, no other individual has had a deeper impact on the visual aesthetic of the world.
But how did a poor orphan become a global icon of both luxury and everyday style? How did she develop such vast, undying influence? And what does our ongoing love of all things Chanel tell us about ourselves?
Rhonda Garelick will explore Chanel's unique genius in our virtual conversation on Friday, September 24. After the conversation, you will be able to ask your questions directly to the author!
This event will be in English. Order your copy here.