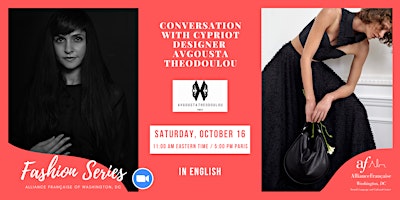 Conversation with Cypriot designer Avgousta Theodoulou
Saturday 16th October 2021 — 11:00am to 12:00pm
Avgousta Theodoulou, whose designs bewitched crowds at the AFDC Beyond The Little Black Dress Fashion Shows in 2016 and 2019, is back for an online talk about her career in fashion. Currently living in Paris and continuing her creative work - she has recently launched a new line of designer bags and scarves - Avgousta will be in conversation with Execute Director of Alliance Française of Washington, DC, Sarah Diligenti.
This online event will be in English. Q&A after the conversation.
About the speaker
Avgousta Theodoulou is a designer born and raised in Cyprus. She studied Computer Science in Greece, while experimenting with various handmade techniques and materials on the side. 2013 was a turning point in her life: Avgousta moved to Paris to pursue her dream of studying fashion design. In 2016, she got her degree in Fashion Design and Technology from IFA Paris. With her graduation collection she won the Bronze award in an international fashion design competition in China, and the Best New Designer award in Athens Xclusive New Designers Awards 2017 in Greece. Her creations have appeared on catwalks in Paris, Athens, Washington DC, and China. Today, the designer lives in Paris where her self-labeled brand is based.
Avgousta creates high-quality and luxury clothes and accessories, using natural and organic fabrics. She chooses to showcase her work when she has something new to say, and stands by the principles of slow fashion, which respects people's labor and the environment. It gives value to the apparel through its more profound design process, by caring about the choice of materials and by choosing a sustainable production process.
Her signature is the application of traditional handmade techniques in an innovative and original way. Her goal is to emphasize the "traces of the hand over its creation." As a designer, she highlights the creative process, which brings each of her garments to life and in which she strives to reconcile opposites: vigor and fragility, the new and the old, the complex and the simple.
Avgousta has a small studio in Paris. She produces limited numbers of pieces in collaboration with artisans in France and Greece. A result of one of these collaborations is a new series of silk scarves designed in Paris and produced in the town of Soufli (Evros, Greece), which has a very long tradition of working with silk. With her designs, Avgousta is determined to promote this Greek and Cypriot know-how on the international level.
Format
This will be a virtual event, and all registered participants will receive a join Zoom link a couple of days before the event.
***
This event is part of Fashion Series events organized by Alliance Française of Washington, DC. Check out other events in the series on our website.