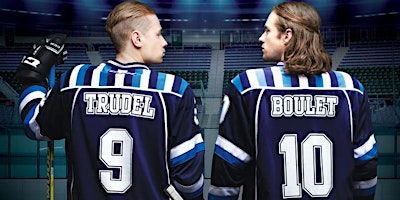 FRANCOPHONIE SERIES: Film Screening: Junior Majeur (Québec, 2017)
Wednesday 4th March 2020 — 6:30pm to 9:00pm
The Québec Government Office in Washington (BQW) is proud to present the film "Junior majeur" (2017) by Éric Tessier in partnership with the Alliance Française of Washington, DC (AFDC) as part of the 2020 DC Francophonie Festival.

Synopsis
Five years after his team's victory at the Québec Pee-Wee Tournament, Janeau Trudel, a young eighteen-year-old prodigy hockey player, is now playing in the Québec Major Junior League. At the dawn of his professional NHL selection, many obstacles will jeopardize his career and his most cherished friendships.
The film will be presented in French with English subtitles. You can watch the trailer here.
Junior majeur is rated PG and runs 115 minutes.
Admission is free, but advance registration is required.
Program:
6:30 pm Arrival and Happy Hour offered by the BQW
6:50 pm Opening remarks by AFDC and BQW
7:00 pm Start of film
8:55 pm End of film
*************************************************************************************************************************************************
Le Bureau du Québec à Washington (BQW) est fier de présenter le film "Junior majeur" (2017) par Éric Tessier, en partenariat avec l'Alliance Française de Washington, DC (AFDC) dans le cadre du festival de la Francophonie DC 2020.

Synopsis
Cinq ans après la victoire de son équipe au Tournoi Pee-Wee de Québec, Janeau Trudel, un jeune hockeyeur prodige âgé de dix-huit ans, évolue maintenant pour les Saguenéens de Chicoutimi, dans la Ligue Junior Majeur du Québec. À l'aube de sa sélection chez les professionnels, de nombreux obstacles viendront compromettre sa carrière ainsi que ses amitiés les plus chères.
Le film sera présenté en français avec des sous-titres en anglais. Visionnez la bande-annonce ici.
Junior majeur est classé PG et a une durée de 115 minutes.
L'entrée est gratuite, mais l'inscription est obligatoire.
Programme:
18h30 Accueil et réception offerte par le BQW

18h50 Mots de bienvenue par l'AFDC et par le BQW

19h00 Début de la projection
20h55 Fin de la projection